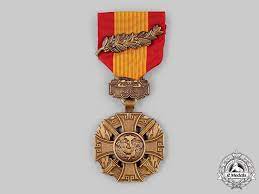 I'm smiling as I think about and remember my counterpart, T.U. Dai.  Nguyen Van Dai…
Americans will intuitively pronounce it correctly.  Those literate in Vietnamese will miss a diacritical mark that makes this a hard D…rather than a soft Yieee.
I'm about to purchase a t-shirt from a company that creates and sells to sentimental veterans.  This specific t-shirt depicts the Vietnamese Cross of Gallantry, awarded to men who served as advisors under MACV.
I've written extensively about Dai and our friendship.  He was a soldier; he was a warrior.   In all our time together, it never occurred to me to submit Dai for a medal.  He already had two Bronze Stars…and he was Vietnamese!  (We don't just hand out OUR medals to allied soldiers, unless they have seriously distinguished themselves.)
No question we shared many dangers.  I think we also shared a perception about our jobs, our responsibilities.  A lotta stuff we did was dangerous…but always "our job".  And he never, to my knowledge ever submitted me for any award.  Nor needed he to…But he knew the regard I held for his soldiers and their well being…and they knew as well.
We share this medal.  Awarded not for any individual deed…but for service.