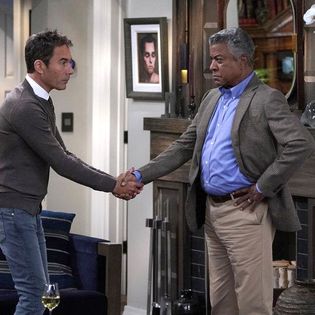 TRISKADECAPHOBIA MY ASS.
Last nite, I had over a friend of many years who's going thru a difficult patch. I grilled steaks and veggies and we sat up talking well into the nite, laying waste to the bottle of Jamesons Cask Strength he'd thoughtfully brought along. I'm always grateful for the chance to be of service to my friends; so many have extended themselves in the past when I've struggled.
This afternoon as I reached for my phone, I noticed two things. That my agents were calling and that today is Friday the 13th! How had I not been aware of that? I answered with some trepidation, to learn that my meeting yesterday had gone well and that I have a job. I am chuffed! It's been seemingly a coons age since I've booked anything of note or needed to modify my bio. I'll be pleased to add WILL AND GRACE to my credits. A bit of nice karma.