In a seemingly Zelig-like way, my life has intersected with three of the most important artists of the 20th century. Martin Puryear. Donald Judd.  Bruce Nauman.
In 1954, schools and neighborhoods in Washington DC the celebrated Brown v. Board of Education decision by the Supreme Court in 1954, declared school segregation unconstitutional.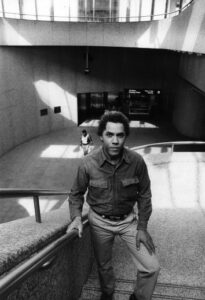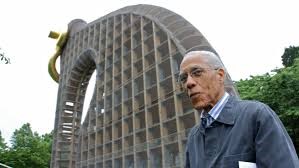 Homes in previously segregated neighborhoods in DC were also becoming available to people of color. My father was then an English professor at Howard University. Our family was one of the first three black families to integrate Woodridge, bounded by S. Dakota Ave and Rhode Island Ave.  I attended an integrated 6th grade at Woodridge Elementary and in 1955, my family moved to Salonika, Greece for two years, my father now a Fulbright professor. Before we'd left, I got to know the children of one of the other black families in the neighborhood.  Martin was a contemporary of my sister, Angela, about to enter high school, Michael was my age and there was a daughter about my brother Glenn's age.
We returned to DC in 1957 and I was now a 9th grader at Taft Junior High.  As I recall, Mikes family was Catholic and they attended private schools but we remained friends until my family moved closer to Howard University in 1959.  We lost contact over the years but reconnected in the 70's after I'd returned from Vietnam.  During that time, Martin Puryear had become one of the most acclaimed modern artists in the world, now a Guggenheim and McArthur Award recipient.  His work is singular and really needs to be appreciated in physical reality.  The textures in his work are mesmerizing. 
https://matthewmarks.com/artists/martin-puryear
Donald Judd began his work in what became SoHo in lower Manhattan.  In 1971, I moved into a 3000 sq ft loft with a fellow acting student.  This area had been primarily warehouses and storage facilities in earlier years.  Now those industries had left the city and relatively huge spaces became available to the creative under the A.I.R. ruling in real estate (Artist In Residence) In other words, if one was able to prove (with shows, sales, exhibits) work that justified their occupancy, they were legally allowed to "own" these spaces.  Rent was nominal and there would be "fixture fees" paid to the prior tenant.  It was unique way to live, in an unexploited area of Manhattan with cobblestone streets and high ceilings.  I owned three NYC lofts in the 70's. One at 111 Mercer St, (3000 sq ft), one at 510 Broome St (2000 sq ft) and finally one at 510 Greenwich St. (2500 sq ft).  That area became TriBeCa (Triangle Below Canal).  John and Yoko bought a loft catercorner to my Broome St loft.  Meryl Streep and John Cazale and DeNiro and many others gravitated to TriBeCa living in the 70's.  There were some unforgettable parties thrown in these spacious homes…several hosted by moi.  😉
My first loft on Greenwich in 1971 had earlier been one of several storage spaces for a modern artist named Donald Judd.  His forms were physically large and his primary studio was a few blocks away…and he seemed to just abandon earlier experimental work.  My roomie and classmate Graig and I discovered several rectangular aluminum forms, perhaps 10 feet by 3 feet by 6"deep.  We decided to use them as planters.  😊  Who knew?
Judd explained of his enigmatic work, "Material, space and color are the main aspects of visual art. Everyone knows that there is material that can be picked up and sold, but no one sees space and color. Two of the main aspects of art are invisible; the basic nature of art is invisible."
https://www.wikiart.org/en/donald-judd
Around 1983, by then living in Battery Park City, directly across from The Twin Towers.  My agents sent me an appointment with an artist who lived a few blocks of me.  I went, met with him and was booked.  A few days later I recorded the script he'd written, me essentially sitting in a bare studio on a stool, looking into the camera and reading a series of lines.  It was not conversation.  It was…the text was SO enigmatic, SO abstract, I actually managed to forget the entire experience.  For 10 years! Word.
In the 90's, now in living in LA, visiting LACMA with my then artist girlfriend, a visitor approached and asked, "Excuse me?  Were you involved in a piece of art I recently saw at The Tate?"  I laughed out loud!  "I don't think so!  I suspect I'd remember that!"    I took a few steps away…and this…ghost of a memory suddenly took form in my mind.  All those years, I'd had nothing tangible, intellectual to connect to that enigmatic experience.   But suddenly I remembered! Yeah!
I discovered that my days work in TriBeCa had contributed to art that had been later installed in MOCA, The Tate, MOMA, Louvre, Guggenheim…essentially every important museum of modern art in the entire world.  So yeah.  Life is curious, ain't it?  😊
 https://vimeo.com/303935110  (The Art)
 https://www.tate.org.uk/art/artworks/nauman-good-boy-bad-boy-t06853     (The Art explained)